EBITDAC = EBITDA in COVID Times

Paul Wormley
April 03, 2020 - 1 min read
In the early days of COVID-19 my brother texted me a photo of a coffee cup with the acronym "EBITDAC" printed across the front. We shared a few good laughs about non-GAAP, made-up earnings acronyms. Anyone remember WeWork's much maligned "Community-Adjusted EBITDA"?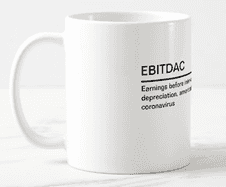 Just a couple of weeks later, as COVID-19 shutdowns rolled across the United States, our portfolio companies began to immediately realize the impacts on demand and operations.
And now, as the dust begins to settle and our portfolio companies return to normal or new-normal operations, the impacts of COVID-19 on profit and loss statements are no laughing matter. As we think about normalized operating performance in 2020, we find ourselves making adjustments for COVID-19 related impacts. In effect, calculating EBITDAC.
Normalized operating performance is important to understand for a number of reasons. For our portfolio companies, it boils down to two primary reasons: 1) Loan covenants: many of our portfolio companies are subject to bank loan covenants tied to EBITDA metrics such as debt/EBITDA or fixed charge coverage ratios; and 2) Valuation: small companies are valued based on a multiple of EBITDA. If EBITDA includes substantial, non-recurring or one-time costs, it is standard to add these expenses back to EBITDA for valuation purposes.
Lenders tend to be less likely to accept such addbacks to EBITDA but the highly unusual nature of the pandemic has lenders considering that COVID-related costs may need to be addressed or, at a minimum, well understood when calculating covenants. And, as we consider our plans to sell certain portfolio companies we are highly attuned to the question, "If-COVID-did-not-happen-what-would-our-EBITDA-be?"
COVID-related add backs are unique to each business but some examples we've seen across our portfolio companies include:
Temporary loss of revenue due to shutdowns
Declines in revenue related to temporary price reductions required to retain business
"Hazard Pay" or increases in compensation costs required to keep employees coming to work in hot-spot locations
Workplace safety efforts including direct costs (e.g. PPE) and indirect costs (e.g. lower efficiency due to social distancing requirements on a plant floor)
Computing, telephone and connectivity costs required to support remote workers
All of these costs are directly COVID-related. That is, they would not have occurred without the pandemic and they will not recur following the pandemic. As such, we are encouraging our portfolio companies to actively track (including all the necessary support) COVID-related revenue and cost impacts. The effort put in to track these items in the present is much lower than it would be to recreate them sometime in the future.
As fun as it is to joke about non-GAAP, made up earnings acronyms, EBITDAC is real and tracking it's impacts are important for all small companies. Let's just hope that EBITDAC, like it's root cause, is gone as quickly as it showed up.
Paul joined Scott and Clay to raise Hadley Capital Fund I. He grew up in a family business environment and has spent his entire career working with small and emerging companies.
He currently works with Equustock, GT Golf Supplies, Open Sky Media, Pneu-Con, and Storflex. Previously he was the chairman of the board of directors for i-deal Optics and Centare, both former Hadley companies.
Paul is an outdoor enthusiast who enjoys fishing, hunting, riding motorbikes, Crossfit and an occasional craft beer. He works closely with a number of non-profit organizations including One Acre Fund and Trout & Salmon Foundation.
Paul is a graduate of the University of Colorado at Boulder and received an MBA from the Kellogg School of Management at Northwestern University. He and his wife, Rosemary, have three children.